Corpse Run 345: Identity crisis
on
September 9th, 2013
at
12:01 am
LIVESTREAM UPDATE:
Heya guys, the next livestream will be this Friday, September 13th at 10pm est!  If you missed last week's stream and wanted to check it out, you can watch it here: doodling part, game part.
END LIVESTREAM UPDATE!
I know I'm not all that active on Twitter, but I did post this pic earlier today: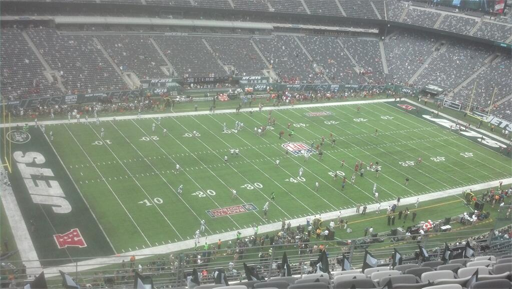 Rich and I went to the Jets game yesterday, the first of the season, and Geno Smith's first start!  Suffice to say I was incredibly excited and spent the next few hours yelling myself horse at players who couldn't hear me.
Well… me individually, we as a crowd got pretty loud and awesome on third downs and what-have-you.
Quick rundown of the game:
Our defense started strong, registering a two sacks and a safety in the first quarter.  Josh Freeman was constantly feeling pressure, and highly regarded second year running back Doug Martin was regularly bottled up at the line of scrimmage.
Unfortunately, our offense didn't fare much better; we spent a good while sputtering around and not sustaining drives.
While the early action was certainly exciting, perhaps the most entertaining part of the first half was a Buccaneers fan a few rows down who decided it'd be super cool to trash talk anyone who'd listen.
… and once he ran out of those folks, he started trash talking everyone else, notably a poor guy sitting right next to him.  Every time the Bucs managed a positive play, this dude would be poking, prodding, and talking right into the ear of his seat neighbor.  The guy was being a real meanie.
I don't know if anyone had mentioned the Bucs guy to the security staff, but once he left during halftime (presumably to get a drink or go to the bathroom), he never returned.
Happy trails, jerk Bucs fan.
On a quick note, I'd like to say that this particular guy is in no way representative of the Bucs organization or their fans; I'm sure most Bucs fans (and NFL fans in general) are nice, considerate folks.
Anyways, back to the game.  The Jets took a one point lead late and appeared to have everything wrapped up when we got the ball back with about three minutes to go, but our offense was unable to run out the clock.
We punt.  The Bucs drive down the girdiron and kick a field goal; they lead by two with thirty seconds left.  Some Jet fans begin heading to the parking lot.
I have a particular mindset when it comes to seeing games in a stadium, never leave.  One, you paid good money for your tickets and should want to get the most out of the experience.  Two, you never know what's going to happen.
With thirty seconds left, we drive to midfield and spike the ball to stop the clock.  Chances are we won't be able to launch a bomb into the endzone, and with no timeouts we need to pick up about 15-20 yards and get out of bounds on the next play.
Geno takes the snap.
He rolls to his right.
He tucks in and runs.
My heart sinks.  Even with the seven or eight yards he's about to pick up, it won't be enough to attempt a field goal; we'll have to try a hail mary on the last play of the game.
Except we don't.  LaVonte David hits Geno as he's heading out of bounds.
Personal foul, unnecessary roughness, fifteen yard penalty, first down.
There's about four seconds left, and Nick Folk is lining up to kick a 48 yard field goal to win the game.
The stadium is rocking.  Folk lifts his hand to signal he's ready.
Silence.
Snap.  Kick.
It's good.
The stadium explodes, and suddenly Rich and I are high-fiving everyone within reach, the hand-slaps completely inaudible amid the ringing cheers.
Jet's lead 18-17 with two seconds left.
To their credit, the Bucs nearly manage a miraculous return on the ensuing kickoff, but it's all over… Jets win.
It wasn't pretty, but it was one hell of an exciting start to the season.
To cap off the experience, I checked my 3DS on the train home and this guy comes up: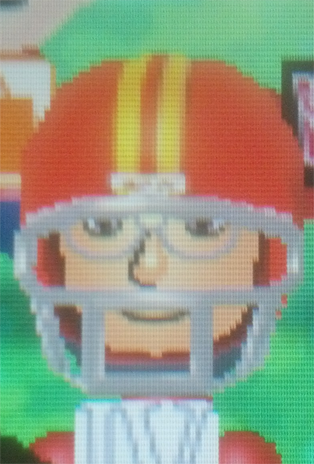 His name is Kristain, Streetpass Mii Plaza tells me.
And he's from Florida.
No way… I think.
His Mii message?
"Go Bucs."
Sorry Kristain, that was a rough way to lose.
Thanks for the puzzle piece, though!