Corpse Run 359: The blind poke-maker
on
October 28th, 2013
at
12:01 am
LIVESTREAM UPDATE:
The next livestream will be this Friday, November 1st at 9pm est!  In totally smashing news, I switched the Tales of Symphonia files over to my Mac partition, which has more available ram.  After testing it out on Saturday, I can mercifully report that there's almost zero slowdown, so the audio won't be heinous moving forward.
Yay!
If you missed last week's stream and wanted to catch it, you can view it here: doodling part, Tales of Symphonia part.
END LIVESTREAM UPDATE!
Hey… Halloween is this week, so It's time for a Second Annual Corpse Run Costume Contest reminder!  In order to enter the contest, send a picture of your costume to [email protected] with the subject "Halloween Costume Contest" by Monday, November 4th.
That would normally be the end of the contest reminder, but this time, it's different.
This time, there are pictures. 
I ordered the Shower Bear prize buttons a while back, and they've been sitting in my apartment for about a week.  Other than the fun of submitting a picture for the contest, you might snag one of these silly little button… pin… things: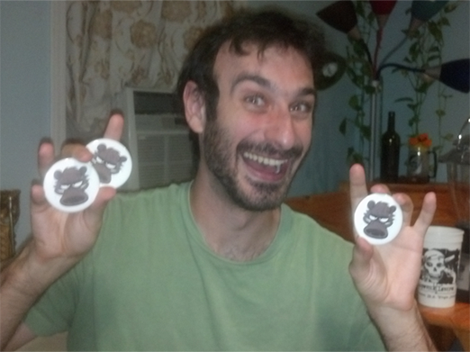 Man, don't I look happy?  That's cause I'm holding the buttons!  THAT COULD BE YOU HOLDING A BUTTON!
Also, here's a closer shot: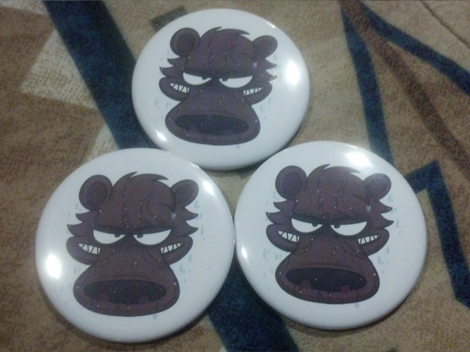 Sweet.
Finally, in the interest of making fun of myself, here's one of the shots that didn't come out tolerable enough: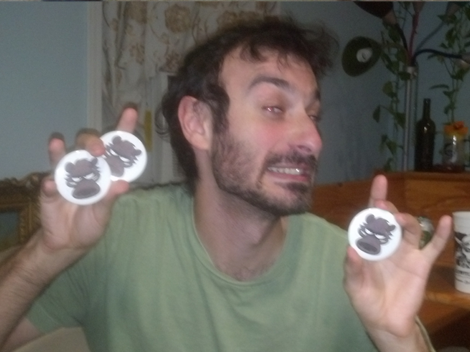 I really don't know how I managed to look so goofy/horrible/creepy in this pic but… yeah.  
I am a smooth, photogenic guy…