Corpse Run 454: Not even once
on
September 29th, 2014
at
12:00 am
LIVESTREAM UPDATE:
The next livestream will be this Friday, October 3rd at 7pm est!  Things got kind of crazy last week (more on that in a bit), and despite the tinkering I had done with RE6 settings, I'm not sure if that'll be a go for now.
So… I don't know what the game will be just yet… IT'S A MYSTERY!!
See you then!
END LIVESTREAM UPDATE!
When I say things got really weird during the last stream, I mean really weird: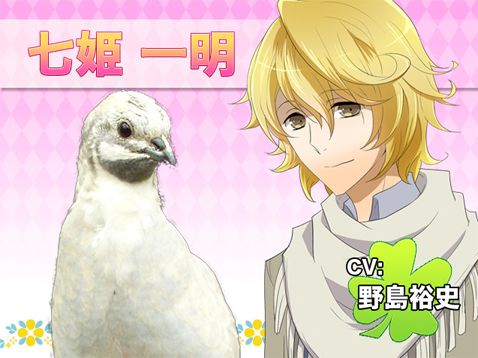 If you're wondering what the hell that is, don't worry, that reaction is totally normal and you have zero need to seek help from a medical professional.  The image above is from a game called Hatoful Boyfriend, a pigeon dating sim.
You read that correctly.  Hatoful Boyfriend is a pigeon dating simulator.  You play as a human female who for reasons unknown (or possibly known, I skipped some of the initial text) attends a school full of pigeons.
Over the course of her sophomore year, she meets and befriends many feathery folk, but if the right choices are made, she can take those relationships to the next level.
This is what we played on the livestream in lieu of Resident Evil 6.
I can not think of two more different games.
My college roommate Chris (the guy who occasionally yells TIM TEBOW! during the streams) gifted me the game and said I should stream it.  So I did.
Our character, Shaniqua Ladybits, took the pigeon high school by storm.  There were many excellent birds for her to choose from, but deep in her heart she already decided… through the choices dictated by both the stream viewers and myself, Shaniqua Ladybits fell head over heels for…
…her teacher, Kazuaki Nanaki.  Thankfully, teacher-bird isn't an idiot and when Shaniqua professed her love, he was all like, "That's very nice, but you should wait till you're older."
Honestly, I was terrified that at any point there'd be some… graphic relations, but thankfully Chris didn't gift me a game that contained overly suggestive content.
Anyway, I really felt the need to give our non-stream readers a small taste of the wackiness from this past Friday, and if at any point you guys want to play it again and snag a new love at pigeon school, let me know and we'll do it!
It might be safer than playing Resident Evil, I mean… Leon looks worse and worse over the course of the series…