Corpse Run 506: If you're not first…
on
April 6th, 2015
at
12:01 am
LIVESTREAM UPDATE:
Apologies for the last second cancellation of the stream last week!  We'll be back this Friday, April 10th at 7pm!
See you then!
END LIVESTREAM UPDATE!
Maybe I take Mario Kart 8 too seriously (likely), but the only racer celebrating after a crossing the finish line should be whoever came in first.
Second place stinks, third is worse, and so on…
Depending on the amount of racers present, even the 5th place finisher celebrates sometimes… why?!  You came in fifth!  That's not worth celebrating!  Boooooo!
BOOOOOOOOOOO!
DARE TO BE BETTER!
…or something.
One such something that dared to be better this weekend was my hard-boiled egg for our family's annual Easter Egg-Cracking competition.  This year's eggs were made by my cousins and amongst the menagerie of animal and fruit decorated offerings, I chose the bunny egg.
This.  Egg.  Was.  Beastly.
Never suffering a single crack, it tore through the competition: defeating five or six eggs in a row before being declared champion.
I will show a picture of the egg, but be warned: some may not be able to handle it's cracking greatness.
FEAST YOUR EYES ON THE SICKEST EGG EVER TO BE HARD BOILED: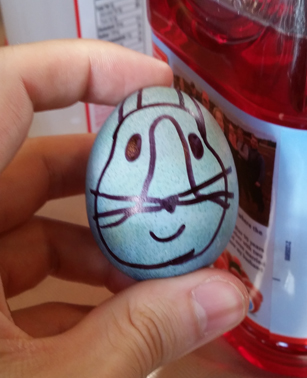 FEAR IT!